Posted on July 17, 2017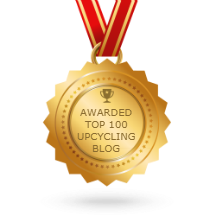 I just was notified that my blog was selected by a group of panelist as one of the Top 100 Upcycling Blogs on the web. Wow that is so exciting to be recognized in this way on the Internet.
I am number 23 of the 100 blogs. This is one of the most comprehensive list of Top 100 Upcycling Blogs on the Internet and I am so honored to be listed.
Here is the full list of blogs that made the list. I hope you take a few minutes and check out the different blogs featured in the post. I think you will find an amazing group of bloggers dedicated to upcycling, recycling, crafting, and repurposing of items and such innovative ideas too.